Bloody Sunday march a 'thank you' to Derry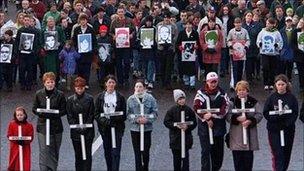 Relatives of those killed and wounded on Bloody Sunday have said next month's anniversary march will be a public thank you to the people of Londonderry.
It will be the first march since the Saville Report found the dead and injured innocent.
Tony Doherty, whose father Paddy was killed on Bloody Sunday, said that "in all likelihood" it will also be the last commemoration march.
"The consensus is that it should be conducted in a way that promotes the celebration of achievement.
"I think most people are of the view that it should be the last march, and it's appropriate and timely that we mark the occasion with a celebration rather than a commemoration."
But Liam Wray, whose brother Jim was also killed, said he was not consulted about the decision.
"I don't feel the families own the march, I believe the people of Derry have ownership of the march.
"I don't believe the march should stop because we get all of our families' names cleared, the march is much bigger than that.
"Many other organisations have come on this march and had their opportunity to highlight their cause.
"I think it would be very sad and detrimental to civil rights and human rights if it disappeared."
Kate Nash, whose brother William was killed on Bloody Sunday, said she hoped the tradition of a commemorative march would continue.
"I think it will go on as long as people have the will to walk.
"The Bloody Sunday march has always served as a great beacon of hope for the families, and it's something I will sadly miss.
"I think the march is a great medium for other injustices.
"However I realise that 38 years is a long time, so maybe it is time for it to end."