6,500 struggle in NI water crisis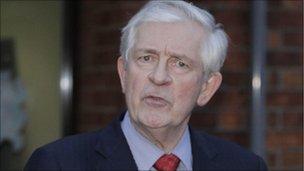 More than 6,500 householders across Northern Ireland are still struggling without water supplies as engineers work to repair leaks.
NI Water interim chairman Padraic White said he hoped there would be a gradual improvement in the coming days as reservoir levels rise.
It is understood Belfast and parts of Cookstown are of greatest concern.
Almost 12,000 properties will have a rotating supply of water, all of them in the east of Northern Ireland.
The latest NI Water update on disruptions is available here.
The company's board will meet again on Tuesday to discuss how it could improve its response to a similar incident in the future.
Mr White said that by the middle of next week, the number of homes affected in Northern Ireland would be in "the hundreds" and confined to isolated areas.
Malcolm Givan, who is a farmer in County Tyrone, said his animals were suffering, even though he was spending hours trying to collect water for them in buckets.
"It takes all day to give them the water and they are not getting the water they need all the time. You can tell at night time, you would hear them roaring," he said.
"But the rest of the animals need looking after too and we need to look after ourselves too."
NI Water said burst pipes at three premises in Newtownabbey, Belfast and Limavady accounted for the loss of 10m litres of water every day.
Regional Development Minister Conor Murphy said the Stormont Executive's focus was to get those suffering loss of water supply reconnected and to ensure there was no recurrence of the problem "for the rest of the winter".
He said he intended to announce "early next week" who would be conducting the review into the water crisis on behalf of the NI executive, as well as its time frame and terms of reference.
NI Water, a state-owned company, which is the sole provider of water and sewerage services in Northern Ireland, said an unprecedented number of leaks caused by the thaw following the long period of freezing weather had been putting "big pressure" on its systems.
The thaw followed the worst snow in Northern Ireland in 25 years and record cold temperatures.
As temperatures rose, burst pipes drained reservoirs, forcing NI Water to turn off the tap to the 80 locations.
Local councils are working to supply water and offer free showers to people without a mains supply and information is being provided on the NI Water website
Related Internet Links
The BBC is not responsible for the content of external sites.