Shy bittern returns after 150 years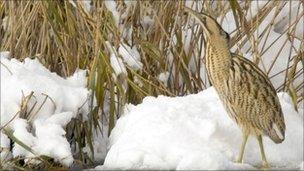 An elusive bird that has not been seen on Irish shores in more than 150 years has returned.
The bittern was believed to have become extinct in Ireland but it has been spotted in the Republic, possibly seeking refuge from icy weather in Europe.
In the last week of December, three of the birds were seen at Lake Tacumshane in County Wexford.
But experts believe there could be many more as the bittern is hard to track.
Niall Hatch, development officer with Birdwatch Ireland, told the Irish Times newspaper: "This is tremendously exciting news because bitterns became extinct here in the mid-19th century.
"At least three have been spotted in reed beds at Lake Tacumshane, but there could be many more because it's very difficult to spot them as they are so secretive.
"When they are frightened or startled they point their beak up to the sky, which camouflages them perfectly because their beak resembles a reed bed."
Mr Hatch said the most likely scenario was that the bittern took refuge from freezing temperatures in France and Ireland is the last westerly land mass for them to escape to.
Earlier in December, a bittern was seen in Worcestershire.
Danny Arnold, from the Teme Valley Wildlife Trust said: "I'm sure I won't see this again in my lifetime." The lone bittern has been living and feeding on the River Teme, at Tenbury Wells, since 7 December.
Bitterns are shy, secretive and more likely to be heard than seen.
With their subtle brown plumage, this plump heron-like bird blends almost perfectly into its reed bed habitat. Even when frightened, the bittern stands perfectly still pointing its neck and bill skywards, to look just like a reed stalk.
It is the male's remarkably loud and booming mating call, which can be heard over 2kms away, that announces their presence.
Though found in Europe, North Africa and central Asia, there is only a handful of breeding pairs in Britain that have re-colonised after becoming extinct late in the 19th century.
Related Internet Links
The BBC is not responsible for the content of external sites.