Republic of Ireland swine flu cases more than treble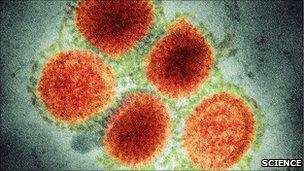 Cases of swine flu (H1N1) in the Republic of Ireland have increased from 30 to 91 in a week according to the country's Health Protection Surveillance Centre (HPSC).
The announcement follows the revelation last week by NI's Public Health Agency that the number of cases in Northern Ireland had more than doubled.
The number of people hospitalised for swine flu in the Republic has also continued to increase, with 36 cases as of December 30th 2010.
Five swine flu patients are believed to have been admitted to intensive care.
The HPSC has also reported that swine flu is currently the most prevalent type of flu virus circulating in Ireland.
Northern Ireland's Public Health Agency has advised those eligible for the H1N1 vaccine to see their doctor as soon as possible.
Official data for Northern Ireland shows the number of swine flu cases has increased from 56 in week 50 of 2010 to 129 in week 51.
The Public Health Agency also said it had observed an increase in influenza cases generally, not only those with H1N1.
The symptoms of a typical flu are a sudden fever, headache, muscle aches, a dry cough and sore throat.
The average duration of infection is between 10 and 14 days.
For more information about the flu virus and the vaccine for 2010/2011 visit the HSC Public Health Agency or speak to your GP, nurse or member of staff at the antenatal clinic in your local trust.
Related Internet Links
The BBC is not responsible for the content of external sites.