Northern Ireland schools to be hit by water crisis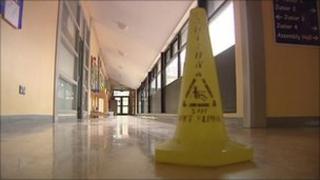 Dozens of Northern Ireland schools may be unable to re-open after the Christmas break because of damage caused by burst internal water pipes.
The Department of Education said it will receive an update from NI Water later.
It will then consult with the education boards on Monday and publish a list of schools unable to re-open.
Thousands of pounds of equipment were destroyed at one school in Antrim where more than 30 pipes burst a week ago.
Three classrooms and the physiotherapy room at Riverside Special School were badly damaged and water ran down the walls into the interactive whiteboard which will cost £4,000 to replace. Even the baubles on the Christmas tree filled with water.
Meanwhile, the government-owned Northern Ireland Water said the number of properties without water had now been reduced from several thousand to 799.
Most of these are in Cookstown, Dungannon, Newry and Warrenpoint.
Affected properties
However, 40,000 more homes are due to have their water supplies restricted overnight in order to help replenish reservoirs.
A spokesperson for the water company said that 500 staff were dealing with affected properties.
"The focus is on continuing to work to repair bursts on the main water supply system which is impacting on reservoir levels and dealing with air locks in the system," she said.
The company said it would be "at least three or four more days" before everyone was reconnected.
Meanwhile, Scottish First Minister Alex Salmond said he would not be charging Northern Ireland for the 500,000 litres of bottled water sent over during the crisis.
NI Water has reiterated its appeal to customers to check their premises for any damage to pipes and have them repaired as soon as possible.
It has also asked the public not to use garden hoses or wash cars.
A full list of areas where the water supply will be turned off is available on the NI Water website, along with a list of locations where temporary water supplies have been set up.