Who has NI's best house?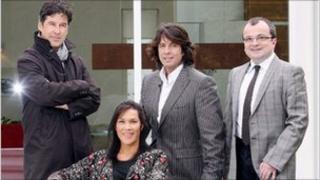 Laurence Llewelyn-Bowen and his three expert judges will be back on our screens on Monday with the launch of 2011's hunt for Northern Ireland's house of the year.
The new seven-part series from BBC Northern Ireland sees Laurence, award-winning architect Des Ewing, freelance property consultant Michael Dunn and international interior designer Suzanne Garuda take a tour around 18 short-listed homes to find one worthy of the House of the Year title.
Each house will be judged on the basis of architecture, interior design, use of space, environmental credentials and overall appeal.
The judges have the difficult task of choosing two runners-up and an overall winner. The winner will receive the BBC Northern Ireland House of the Year title and trophy.
Laurence Llewelyn-Bowen said the new series will build on the format of the first one as well as holding plenty of new surprises.
"People associated the first series, rightly or wrongly, with big glass palaces. I think that's simply because that's what stuck in their minds.
"This series will show that there is so much more going on architecturally speaking in Northern Ireland and there are a lot of really memorable very small houses in this series," he said.
Journey
Laurence said he hoped viewers would draw inspiration from the show.
"It's not just about entertaining people with showing them nice houses, it's also about inspiring people and the inspiring thing is that these are things you can do on a small scale or on a large scale."
According to Michael Dunn the show was about homes more than houses.
"Each house has a story about creating a home in it and there's a real diverse mixture of houses, all sizes all shapes, so it's not just the big glamorous expensive houses. And each of them have a journey, people have created their homes there," he said.
"That includes a castle and that includes a small house on a development of 100 other houses."
Designer Suzanne Garuda said she hoped the variety would appeal to the viewers.
"From that respect I think its going to make great TV, I think people will be much more interested in it and it's going to be the smaller stories that people like to watch on TV, rather than the big unobtainable things," she said.
When Laurence Llewelyn-Bowen was first approached to take part in the series, he was attracted by the programme makers focus on the positive.
"When I was approached about this programme a couple of years ago I was being offered things like Britain's worst home, Britain's worst chandelier or Britain's most nightmarish decoration, it was all pejorative," he said.
"Then someone comes to me about Northern Ireland's House of the Year and it's about the best rather than the worst. To do a programme that celebrates rather than knocks is very energising, it's a good experience."
And according to Laurence, Northern Ireland is the only place they could have made the series.
"You would struggle to do a programme like this anywhere else because you need the energy and the culture you have here about building your own home and doing it your own way. It would be difficult to find things as interesting elsewhere because of planning constraints."
Traybakes
"I'm constantly surprised by how good the quality of the architecture is here and part of it is down to a much more creative attitude on the part of planning bodies. And the great thing about the houses in this series is that many of them have been done for surprisingly little money."
Architect Des Ewing agreed:"There's definitely a strong tradition here of building your own home. I think there's as many people build their own home in NI as in the whole of the rest of the UK, so people have an opportunity to create something whereas in England people are mainly buying off-the-peg houses from developers."
So, do Laurence and the team have any tips to impress the judges if you want to see your home on House of the Year 2012?
"The most important thing is not to write yourself off," Laurence said.
"Anyone could be on the programme if you just trust your instincts and let your personality show in your design choices. And remember the traybakes. the judges love traybakes."
House of the Year starts on BBC One Northern Ireland on Monday, 3 January at 1930 GMT.
Further information can be found at http://www.bbc.co.uk/houseoftheyear.