Northern Ireland Water cuts off 40,000 homes overnight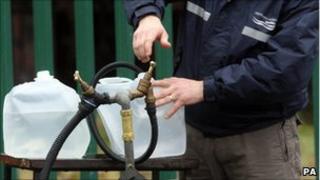 About 40,000 properties in Northern Ireland have had their mains water supplies temporarily cut off overnight, as engineers work to refill reservoirs.
But Northern Ireland Water says the number of homes without running water has fallen to about 800.
Thousands were left without supplies over the Christmas break because of burst pipes, caused by the thaw after freezing conditions.
Dozens of schools may be unable to re-open due to water damage.
The Department of Education said it would consult with the education boards on Monday and publish a list of those schools affected.
More disruption
Even customers not affected by burst pipes will have had their water supplies cut off overnight to allow reservoirs to be replenished. The disruption is expected to last until 0800 GMT on Monday.
A full list of areas where the water supply has been turned off is available on the NI Water website, along with a list of locations where temporary water supplies have been set up.
State-owned NI Water, which is the sole provider of water and sewerage services in Northern Ireland, said the number of houses without water was down to 799.
The main affected areas are parts of Cookstown, Dungannon, Newry and Warrenpoint, and some 500 NI Water staff are dealing with those properties.
The company said it would be "at least three or four more days" before everyone was reconnected.
Arctic weather conditions, followed by a sudden thaw, caused large numbers of burst pipes in buildings and in the mains supply, draining unprecedented amounts of water from the system.
Some people have been without running water for almost two weeks.
While NI Water has responsibility for leaking pipes in the main system, its responsibility ends when the supply enters properties.
However, many of the leaks are understood to be within unoccupied homes and businesses, and the company has urged customers to check their properties and have the pipes repaired as soon as possible.
Bill Gowdy, from the water company, said: "We do urge owners of properties, of vacant properties, of outbuildings, please go and check to see if there's any leaks because there's a significant number of leaks on private property."