Ruane says 'majority' of schools to reopen after thaw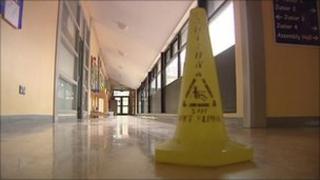 Education minister Caitriona Ruane has said she is hopeful the "vast majority" of schools in Northern Ireland will reopen despite the damage caused by burst water pipes.
Ms Ruane said several hundred schools had reported incidents over the Christmas period.
On Monday, the Department of Education will publish a list of those schools which will not reopen.
Ms Ruane has praised the efforts of maintenance staff.
"I want to thank maintenance staff and principals who have been in their schools over the holiday and what I would say to all principals in nursery schools, primary schools and post-primary schools is continue going to your premises and continue checking your premises," she said.
"We are working with all the other government departments and managing organisations.
"In most schools the heating was kept on at a low level, but we were dealing with very cold weather and maintenance staff played a huge role in keeping systems going."
Ms Ruane said Northern Ireland Water had been asked to ensure rotations of supply would not happen during school times.
She said the cost of the damage to schools would be "very expensive" and that NI Water had "questions to answer".
Thousands of pounds of equipment were destroyed at one school in Antrim where more than 30 pipes burst a week ago.
Three classrooms and the physiotherapy room at Riverside Special School were badly damaged and water ran down the walls into the interactive whiteboard which will cost £4,000 to replace. Even the baubles on the Christmas tree filled with water.
Thousands were left without supplies over the Christmas break because of burst pipes, caused by the thaw after freezing conditions.
Dozens of schools may be unable to re-open due to water damage.
Ms Ruane said the Department of Education would publish a list of those schools which would be closed, on its website, later on Monday.
Schools with problems have been asked to contact the department between 0900 GMT and midday on 02891 279480, 02891 279481 and 02891 279473.