Last of the showgirls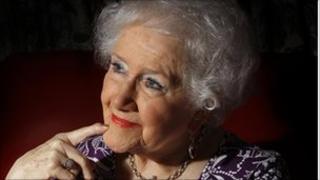 Leila Webster, is possibly the most interesting 87-year-old you could ever hope to meet.
From agoraphobic ten-year-old to national treasure via show-girl, comedienne and actress. Leila has done it all.
I Minds the Time is a documentary about Leila's varied career to be shown on BBC One NI on Monday.
The film by Ian Dougan takes us along for the ride as Leila makes the journey from her home in Rutland Street in Belfast to working alongside world-famous stars like Bob Hope and Josef Locke.
The simple fact that Leila has been singing in public since she was ten-years-old is a good place to start her remarkable story.
After suffering two episodes of scarlet fever, Leila developed a serious heart condition brought on by the serum meant to treat the fever and spent six months in bed recovering.
This illness was followed by rheumatic fever, a nervous break down and then the onset of a severe case of agoraphobia, leaving her unable to leave her house and extremely reluctant to talk to anyone.
Her parents, who were still grieving for their son who died of diphtheria when he was just six, searched for a way to help their stricken daughter.
Leila's parents discovered the cure when her father bought a piano and her mother brought a singing teacher around to give her daughter lessons.
'Terrified'
"Mr Jack McAlpine, who was blind, listened to me sing and he must have said to my mother that I had a good voice, now I never heard the conversation, but Mr McAlpine then took me on as a pupil," she said.
The singing lessons took Leila to her first public performance, in front of the armed forces at May Street Church. After that, the phone never stopped ringing.
However, Leila's agoraphobia didn't vanish overnight.
"I was absolutely terrified. People used to call for me at the door and I would have to be trailed to the concerts," she said.
"While I was there I would have been very uneasy, but then when I got up to sing and I felt better."
And from there, her career took off.
Beginning as a singer at the old Empire Theatre in Victoria Square, her talent for comedy was quickly recognised and she was soon adding the role of comedienne to her resume.
Many years of 'topping the bill' as one of Northern Ireland's best-loved singers, actresses and cabaret artistes followed for the wee girl from Rutland Street .
Her many showbiz adventures included sharing the bill with Bob Hope, working with Sam Cree on his many productions and stealing the comedy thunder from James Young.
Legacy
Throughout her career, Leila had the audiences rolling in the aisles with her one woman stand-up shows, sketches and improvisations.
She also proved her versatility in more serious roles, such as Brecht's 'Mother Courage' along with many powerful television performances.
Along the way she got married twice, the second time to the love of her life, Tom Mercer, who sadly passed away in 2010. She also raised a son, learned German and picked up an MBE for her charity work.
For Ian Dougan, the man behind the documentary, telling the story of Leila's life was "a genuinely enjoyable experience".
"I first met Leila when I was 16 and she was the first showbiz lady I had ever met and I was kind of fascinated by and terrified of her. I believe Leila is the last of the great show-girls and the last of the comedians so that was why I wanted to do this documentary about her," he said.
Whether or not Leila is the last of her kind, she has certainly created a legacy to be reckoned with.
Leila Webster 'I Minds the Time' will be shown on BBC One Northern Ireland at 2225 GMT on Monday 3 January.