Nine schools in NI will not reopen on Tuesday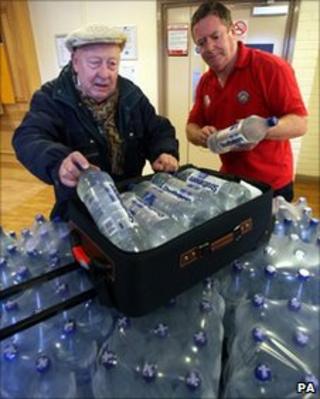 The education minister has said only nine schools in NI will not be able to reopen on Tuesday.
Several hundred schools had been affected by water damage and burst pipes over the Christmas period.
Many are due to reopen on Tuesday after the Christmas break.
Caitriona Ruane praised the "tremendous effort" made by principals and maintenance staff over the weekend to ensure most schools were not affected.
The Department of Education has listed those schools which are unable to reopen on Tuesday.
Speaking during a visit to St Patrick's Primary School, Mayobridge, Ms Ruane said the number of school closures was much less than had previously been expected.
"We initially had several hundred incidents reported but close co-operation at all levels has greatly reduced this number, thus reducing the potential inconvenience to pupils," she said.
"My department has been proactive in ensuring the arrangements which are in place to deal with emergency situations operated effectively and this has proven to be the case."
The education minister said NI Water had been asked to ensure rotations of supply would not happen during school times.
Ms Ruane said the cost of the damage to schools would be "very expensive" and that NI Water had "questions to answer".
Special school
Thousands of pounds of equipment were destroyed at one school in Antrim where more than 30 pipes burst a week ago.
Three classrooms and the physiotherapy room at Riverside Special School were badly damaged and water ran down the walls into the interactive whiteboard which will cost £4,000 to replace. Even the baubles on the Christmas tree filled with water.
Thousands were left without supplies over the Christmas break because of burst pipes, caused by the thaw after freezing conditions.
The Chair of the Stormont Education Committee, Mervyn Storey said he had particular concerns for special needs schools and those who were preparing students for mock examinations in two weeks time.
The water crisis has continued to affect thousands of properties with supplies disrupted to 40,000 homes overnight.
However the number of those completely cut off has dropped to less than 500.
Northern Ireland Water, which is responsible for providing water and sewerage services in NI, said it would be at least "three or four more days" before everyone was reconnected.
The company said it was now visiting customers who have contacted it on more than one occasion and asked anyone still without a water supply to contact the call centre on 08457 440088.
The organisation said there remained a considerable demand for water, which appeared to be caused by leaks on customers' private installations.
'Curtailment of supplies'
It re-iterated its appeal to customers to check their premises for any damage to their own plumbing infrastructure and to repair this as soon as possible.
The company said that although there is an improving situation emerging in relation to reservoir levels "it is expected that a limited night time curtailment of supplies" will continue on Monday evening.
A full list of areas where the water supply has been turned off is available on the NI Water website, along with a list of locations where temporary water supplies have been set up.