Derry politicians unite against dissident republicans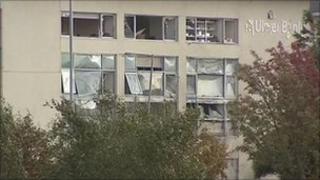 The mainstream political parties in Londonderry have united to urge dissident republicans to end their armed campaign.
The appeal came in a joint New Year statement signed by senior members of the SDLP, Sinn Fein, DUP and UUP.
In it they called on dissidents to "put away your weapons and join with us in making this a better city for all".
But Gary Donnelly from the 32 County Sovereignty Movement said the statement would not change anything.
"Everyone wants to go forward, everyone wants to see peace, but issuing statements that have been issued in the past which have been proved to have had little or no effect is not going to solve the problems in Ireland."
The signatories included Foyle MP Mark Durkan and East Londonderry MP Gregory Campbell.
Speaker of the House William Hay and assembly members Martina Anderson and Raymond McCartney from Sinn Fein and the SDLP's Pat Ramsey and Pol Callaghan also signed the statement, as did UUP councillor Mary Hamilton.
In the statement, they said that "irrespective of political differences, 2011 will be the year we commit to working together".
"We invite every citizen to work with us to create the conditions for a shared city life in this culturally vibrant city."
Sinn Fein MLA Raymond McCartney, who signed the statement, said it was in response to dissident car bomb attacks in Derry in 2010.
"There was a feeling within the city that we needed to have a positive way forward and to ensure that all forms of representation in the city - political, civic, religious and community - would have a platform to express themselves.
"I think the statement is the first step in that, and I think most people are supportive of what we're trying to do."
'Positive future'
East Londonderry MP Gregory Campbell said the statement was directed at the "99.9% of the wider community who don't want this violence to continue".
"If we don't want this violence to continue then we all have a duty to ensure it doesn't.
"That means we have to get whatever information we can, and whatever evidence we can help the police to compile to ensure that the people who carry out such atrocities, if they do carry out any more, are brought before the courts."
Jim Roddy from the City Centre Initiative helped bring the parties together.
"None of us want this any more.
"People are saying, let's build a positive future for the city and create jobs and give our young people a chance and a hope for the future.
"After the last bomb there were a few phone calls made between friends, and we decided we can't really be going back to where we were.
"So we started talking to some politicians and it grew from there.
"The one thing that came through at all times is how proud we are to be from the city."