NI Water contacted UK aid scheme on New Year's Eve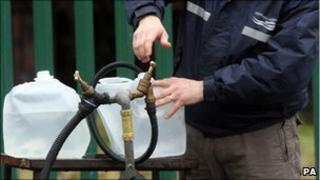 The chief executive of an industry body which coordinates assistance for UK water operators has said it was not asked to help NI Water until New Year's Eve.
Pamela Taylor from Water UK said she believed that there was "a misunderstanding" by NI Water about the scope of the aid available.
Water UK provided help within three hours of being asked.
Call centre staff and thousands of containers were made available.
Water UK operates a mutual aid scheme which provides help and advice for water operators in England, Scotland, Wales and Northern Ireland.
Ms Taylor said the idea behind the scheme was that operators could call for assistance in the event of an emergency.
She said it was up to individual operators to identify the type of help needed such as tankers, bowsers or call centre staff.
She confirmed that NI Water contacted Water UK on Friday, a week after the crisis began for clarification on the assistance available.
'Clarify'
"I think they felt that the scheme was narrower than it actually was," she said.
"So when I was contacted on Friday I was able to clarify with them the breadth of the scheme and recognise that NI Water did indeed want help regarding call centre staff.
"Then within three hours of their needing that support though mutual aid they were able to get it."
Asked why NI Water had not asked for help until Friday, Ms Taylor said it was not up to her to make judgements on operational matters.
However she said that regarding investment in infrastructure, NI Water had "catching up to do" when compared with the rest of the UK.
Liam Mulholland from NI Water defended the company's position and denied NI Water had not made the most of the help available from Water UK.
"As part of our major incident plan we reviewed that part of the document which said the mutual understanding is there," he said.
"It clearly states that it is to do with engineering, plant and machinery and so on.
"The term resource is more around the machinery and plant situation, that was our view at that time.
"At that point the situation with Water UK was, there was no agreement there in terms of call handling staff.
"Subsequently on 31 December when our chief executive spoke with Water UK they put out a call to their members to see if anyone could help us.
"It was good of the Water UK people to put a call out to their members to say has anyone any suggestions from which we found another call centre which were locally based who we were able to get assistance from but we were already trying to get people onboard to answer more calls."