Latest information on NI Water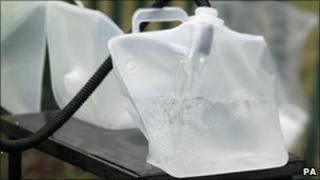 NI Water has said the number of properties in Northern Ireland completely without running water now stands at 158.
NI Water said it can not confirm if they will all be reconnected on Tuesday.
The company is now in the process of calling out to those customers who have contacted them more than once.
It is urging customers still without a water supply to contact its call centre on 08457 440088.
The organisation said there remained a considerable demand for water, which appeared to be caused by leaks on customers' private installations.
It re-iterated its appeal to customers to check their premises for any damage to their own plumbing infrastructure and to repair this as soon as possible.
"Not only does failure to do so add to the water supply problems for other customers but we have also seen the consequences of these internal bursts at properties such as local schools where serious damage has been caused to equipment and the buildings themselves", an NI Water spokesperson said.
Around 500 staff from Northern Ireland Water remain "on the ground"; isolating the water supply to customers where leakage has been detected on their properties, continuing to repair bursts on the main water supply, and dealing with air locks in the water system.
The company said that although there is an improving situation emerging in relation to reservoir levels "it is expected that a limited night time curtailment of supplies" will continue on Monday evening.
It said details of the areas affected will be posted on the Northern Ireland Water.
"The customers, who have their supply constrained tonight, will have had access to mains water in the preceding 12 hours," the NI Water spokesperson added.
"The reason NI Water constrains supplies at night, as opposed to during the day, is to minimise inconvenience to customers.
"Reservoir levels in the greater Belfast area remain low. The focus is on continuing to build up water supplies in the Belfast reservoirs ahead of Tuesday's return to work"