David McClarty resigns from UUP after being deselected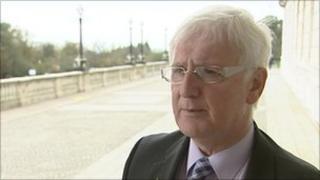 East Londonderry MLA David McClarty has confirmed he has resigned from the Ulster Unionist Party.
He said he made the decision after being deselected by his constituency association in September last year.
He said it was a "very difficult decision" to leave the party, and stressed that he did not have "an issue with the party generally".
It is the latest in a series of high profile resignations to hit the party.
Mr McClarty was one of the party's longest serving MLAs. He was elected to Coleraine Council in 1989 and the Assembly in 1998.
He will remain in Stormont until the elections in May and will retain his council seat as an independent.
Very sad
Speaking on BBC Radio Ulster Mr McClarty said the decision to resign was "one of the saddest episodes in my life".
"It was not an easy decision and I still am very sad that it has come to this," he said.
"But in many ways those two or three individuals who have brought this about have forced me away from the party.
"The party has left me rather than me the party."
When asked if he would consider joining another party or standing in the Assembly elections as an independent - he said he would consider things over the next few weeks and at the moment "nothing has been ruled in and nothing has been ruled out".
Mr McClarty's decision is the latest in a series of resignations by high profile party members.
In December 2010 Harry Hamilton, who stood in the general election in Upper Bann became the third in three months to quit the party.
His move followed resignations by Paula Bradshaw and Trevor Ringland who were also Westminster candidates.