'Cost of honorary degrees at NI universities too high'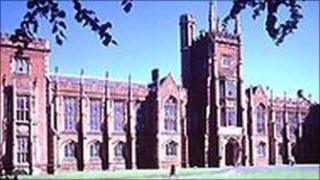 The SDLP has said the cost of awarding honorary degrees at Northern Ireland universities is unacceptable.
Liam Neeson, Feargal Sharkey and Tony Blair are among those who have recently been honoured by local institutions.
The universities have spent almost £300,000 in the past five years.
The figures were released in response to an Assembly question by the SDLP leader Margaret Ritchie. She described the costs as "too high".
Queen's and the University of Ulster have spent a total of £294,494 on giving out honorary degrees in recent years.
Queen's has spent £99,134 since 2005 while the University of Ulster has shelled out almost twice as much in just three years - paying out £195,360 since 2007.
The university said it was unable to provide any figures for the years before 2007.
The SDLP leader Margaret Ritchie said she questioned what the value of the honours was, beyond publicity for the universities involved.
And she said the costs are too high at a time when students are struggling to afford a university education.
"I have no problem with universities investing money in students, investing money in research because that is where our future lies, particularly with the focus required on the economy and jobs and front line services but for universities to be doing this at this time, I find totally unacceptable."
Past recipients of University of Ulster honorary degrees include former PSNI Chief Constable Sir Hugh Orde and Saudi prince Turki bin Faisal Al Saud.
Queen's has bestowed honours on actor Liam Neeson and politicians Tony Blair and Bertie Ahern.