Robbery suspect flees from London court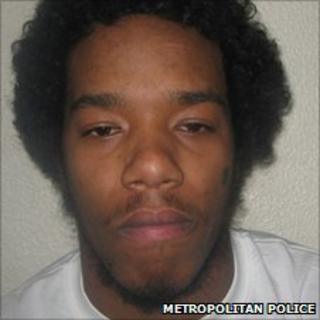 Police are searching for a robbery suspect who fled from a London court after magistrates decided to remand him in custody.
Jeremy Pearce, 21, ran out of Wimbledon Magistrates' Court in west London after escaping from the dock.
He was in court after being charged with three counts of robbery and one count of possessing an offensive weapon, the Metropolitan Police said.
The hearing was drawing to a close when Mr Pearce ran out.
A Met spokesman said anyone who sees him should call 999 and should not approach him.
He is about 6ft 4in (1.93m) and of slim build. He had stubble on his face.
He also has a distinctive scar on his forehead, a one-and-a-half inch scar on his left hand, a cut to his right wrist, and a burn scar on the back of his right hand.
He was wearing a white tracksuit top and white tracksuit bottoms.