Repercussions to follow Northern Ireland's 'water-gate'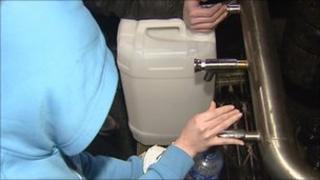 There could be significant repercussions in the wake of Northern Ireland's 'water-gate' crisis.
At the root of the problem is the ageing, creaking water infra-structure which dates back, in part, to the 19th century.
This will not be fixed overnight, not least because some estimates put the total bill at more than £1bn.
But after being a low-priority issue for generations of politicians, it has now leapt to the top of the political agenda.
The forthcoming Stormont Assembly election is only four months away, and the usual 'bread and butter' campaign issues are likely to be mixed with water.
Where should the money to fix the system come from?
Should people in Northern Ireland now pay water charges?
Should the state-owned company which provides the water be privatised?
Or should the state have a more hands-on role?
The questions can no longer be dodged.
The politician in charge of water, Regional Development Minister Conor Murphy, believes it is a time for more state control rather than less. However, his own part in the Christmas crisis is being criticised, with claims that he could have done more to prevent it.
He is under pressure to resign from the Ulster Unionist leader Tom Elliott and the DUP Finance Minister Sammy Wilson.
In reality, there is more chance of freezing Northern Ireland being hit by a January heat wave than Mr Murphy stepping down.
If there are going to be resignations, or indeed sackings, they are more likely to be at Northern Ireland Water, the state-owned company which is supposed to keep the taps running in all weathers.
It was embarrassing that Scotland had to send over half a million litres of water across the Irish Sea to help Northern Ireland. Mind you, in a new year gesture of neighbourly goodwill, the Scots handed it over free-of-charge.
Preparation
The problem was that Northern Ireland Water had not prepared sufficiently for the shortages.
First Minister Peter Robinson described their performance as "shambolic".
If heads are set to roll, it is unlikely to be this week. The management are being given time to ensure all the taps are back on before any action is taken.
Whisper it softly, but in some political circles there is sympathy for Northern Ireland Water.
The out-of-date water infrastructure has been seen for some time as an accident waiting to happen. And it happened at the worst possible time, during the holiday period between Christmas and new year.
However, the lack of information for customers in the initial stages of the water shortages was, arguably, the company's biggest mistake.
"It was an object lesson in how not to communicate," said one government insider.
Communication has got much better in recent days. However, there is still room for improvement, as one minor incident demonstrated.
The BBC received reports that the police had been helping the water authorities by using the force's helicopter to spot major leaks in rural areas.
When asked to confirm this positive example of co-operation, a police press officer said to ask Northern Ireland Water. There was no reply on their emergency media line.
Asked again, the police refused to comment and said it was a matter for Northern Ireland Water.
When the media operation cannot manage to put out good news, perhaps it is no surprise that they failed so badly on the bad news.