McGinley family told what happened to mother's body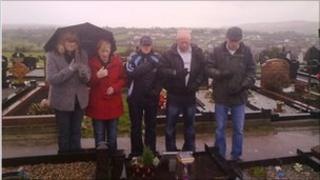 A County Tyrone family have said they now know how their mother's body sustained more than 30 fractures after her death in 2007.
The family of Maureen McGinley have been trying for four years to find out how the fractures were caused.
Mrs McGinley's son James said they have been contacted by a former worker at the hospital.
"The truth is going to come out very shortly - within weeks," he said.
Mr McGinley added: "This person has told us what actually happened to my mother's body and we have passed that on to the PSNI through our solicitor.
"What we now know is a big development for the family.
"I'd love to say on the air what he told me, but I can't for legal reasons because it will affect the investigation," he said.
"I think the (western health) trust is gonna come out and tell us what happened and sit down and talk with the family."
Utmost dignity
Last autumn, the family said they had been told by a former hospital employee that bodies were being transported on trolleys with boxes on top of them.
Relatives have been campaigning for an independent inquiry into what happened.
Internal inquiries at Altnagelvin Hospital and the Coroner's Office have failed to establish who was responsible for the fractures.
Former deputy secretary of state Paul Goggins and Health Minister Michael McGimpsey previously recommended a joint investigation by the Northern Ireland and parliamentary Ombudsman into the January 2007 death.
Mr McGinley said it had been a relief to finally find out the truth.
"What happened to my mother's body was an accident, and hopefully all this will come out within weeks.
"The man that came forward said that his conscience had got the better of him, he said he had to tell the family what had happened and put us out of our misery."
Mr McGinley said the man involved has said he will fully cooperate with the authorities.
In a statement the western health trust said it remained satisfied that the body of Mrs McGinley was treated with "the utmost dignity and respect at all times while in the hospital's care".
It added that if Mrs McGinley's family had new information this should be passed on to the coroner and PSNI.