Northern Ireland road deaths lowest since records began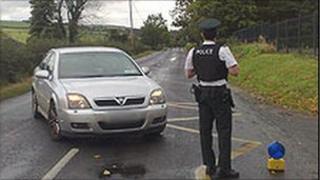 The number of people killed on Northern Ireland's roads last year was the lowest since records began in 1931.
Fifty-five people were killed on Northern Ireland's roads in 2010, compared to 115 in 2009.
Environment Minister Edwin Poots said the 50% reduction in fatalities was welcome, but warned against complacency.
He added that it should be remembered that there had been 55 tragedies on Northern Ireland's roads last year.
"We cannot dwell on our achievements and we cannot be satisfied by 55 deaths and hundreds of seriously injured people.
"Even one life is one too many. There is a greater prize to be had - zero road casualties," he said.
"Complacency poses an enormous threat to road users - so we must not let our guard down.
"I continue to urge road users to pay attention, expect the unexpected, slow down, always wear your seatbelt and never ever drink and drive."
PSNI Assistant Chief Constable Duncan McCausland added: "While these figures are half that of the previous year, behind each figure there are families, friends and communities which have been devastated, so we can never be complacent on this issue.
"The stark reality is that the majority of road traffic collisions are preventable.
"We make absolutely no apology for robustly targeting dangerous and inappropriate driving and need public support to reinforce the road safety message."