NI Water chief MacKenzie is to step down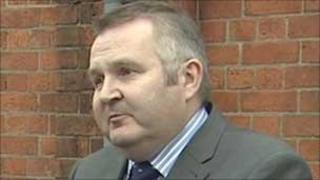 The board of Northern Ireland Water is understood to be finalising details of its chief executive's resignation.
Laurence MacKenzie has faced criticism over his handling of the water crisis which left 40,000 homes off supply.
The minister responsible for NI Water, Conor Murphy, has suggested an external review of the crisis should be carried out by the utility regulator.
He said he believed the regulator had the independence and skills required.
He added that his proposal would be discussed by the executive at a meeting on Thursday and if agreed would mean a report, including recommendations, by the end of February.
On Tuesday, Mr Murphy had refused to be drawn on speculation that NI Water's chief executive was set to quit.
"Everyone's confidence in the operation of NIW has been shaken very badly," Mr Murphy said.
"My focus at the moment, and this is with the agreement of the executive, is ensuring all of those, and there are still people who remain unconnected, get connected and that the immediate lessons are learned and systems put in place."
Gregory Campbell, a former regional development minister, has called for Mr Murphy's resignation.
He said he would call for a vote of no confidence in in the Northern Ireland Assembly.
Tens of thousands of households were affected during the crisis over the Christmas holidays. Extreme cold weather followed by a significant rise in temperatures caused unprecedented numbers of burst pipes.
At its peak more than 40,000 properties were affected and NIW was widely criticised by customers for its response.
Mr MacKenzie, along with other senior managers, is due to appear before Stormont's regional development committee on Thursday.
The committee has said it wants to establish where the responsibility lies for the crisis. The utility regulator is also due to meet senior managers this week.
Northern Ireland Water has said supplies are almost back to normal with 33 homes still cut off and no further rotation of supplies planned.
The Department of Education has listed the schools which were due to reopen after Christmas but will be closed on Wednesday.
Eleven schools due to reopen after Christmas were closed on Tuesday due to damage caused by flooding.
Schools with problems have been asked to contact the department between 0900 GMT and midday on 02891 279480, 02891 279481 and 02891 279473.