NI water draft in posties and helicopters to spot leaks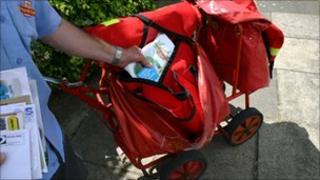 Northern Ireland Water have drafted in a police helicopter and postmen and women in an attempt to tackle burst pipes.
The helicopter is fitted with thermal imaging technology to help check trunk mains in remote areas.
Postmen and women have agreed to report any leaks they find on their rounds.
An NI Water spokesman said the number of customers without supply has fallen to less than 300 but there was still work to be done.
"From experience we know that it is those final hard yards which need to be made as we seek to find bursts on our own network but also in customers' own pipes.
"As our own operatives are out and about finding and repairing leaks we appreciate the help we are receiving from both the PSNI and the Post Office.
Posties
"It is indicative of the co-operative and co-ordinated response there has been from many different agencies across the public sector," the statement continued.
"As we seek to get the last remaining customers back on supply this assistance will prove invaluable."
Assistant Chief Constable Duncan McCausland said the move to use PSNI helicopters was part of the "inter-agency approach" to the issue.
"We have agreed with Northern Ireland Water that they will identify major areas of concern which the PSNI helicopter will then fly over to ascertain if there are any leaks.
"We have been assisting Northern Ireland Water during the recent crisis and will continue to play our part in helping to restore normal water services to the local community."
Director of Royal Mail Logistics for NI, Paul Corrigan, said: "Royal Mail is prepared to support the community it serves in Northern Ireland and NI Water to do what it can to help our customers through this difficult time.
"The latest 21st century technology and the local posties have joined NI Water's efforts as it makes a final push to getting its remaining customers back onto supply."