'Answers needed' on Northern Ireland flu outbreak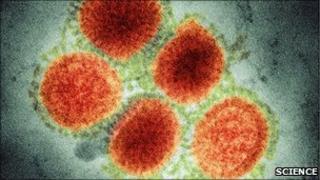 The Department of Health has been accused of not revealing the full extent of the flu crisis in Northern Ireland.
The number of people found to have the H1N1 swine flu virus in NI more than doubled in the last weeks of December.
Nichola Mallon of the SDLP said not enough was being done to warn the public and she understood three people were in intensive care with the virus.
The Department of Health has declined to comment.
"My information, and it comes from within the department, is that there is a very serious situation unfolding," she said.
"The three individuals in intensive care are not in the high risk category. The public deserves the fullest possible advice on what to do in the current circumstances.
"After all, the one thing that the Department of Health and indeed the various Health trusts are not short of is press officers.
Threat level
"So why has there been such a code of silence?"
Ms Mallon said that in other parts of the UK there had been a coordinated policy built around advertising the threat level and how to protect the public, but this had not happened in Northern Ireland.
"Instead there has been a totally ineffective approach," she added.
"Pregnant mothers last year were given extensive advice through the media and other information channels."
In response to a query about whether there were people with flu in intensive care in Northern Ireland, the Public Health Agency (PHA) said it would "not be commenting on any hospitalisations".
"We do not hold any data for hospitalisations as we do not ask the trusts for this data," the PHA spokesperson said.
"This was different during the pandemic as different surveillance methods were used."