Northern Ireland education body is costing £10m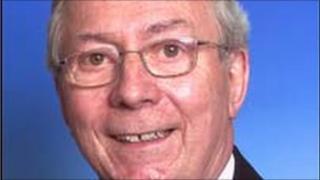 The cost of running the Education and Skills Authority (ESA) has now reached £10m, without any sign the new body will be approved by the NI Assembly.
The figure was obtained by the UUP MLA, Sam Gardiner.
The Department of Education describes the setting up of the ESA as an "invest to save measure" with savings of £20m a year in administration costs.
Some staff appointed to the authority have now temporarily returned to other education bodies.
These bodies were supposed to have been taken over by the ESA.
Mr Gardiner has described the ESA as a "Sinn Fein white elephant".
A Department of Education spokesperson said the executive had agreed to the establishment of the Education and Skills Authority in its Programme for Government and the Assembly voted overwhelmingly to pass the bill.
"It is certainly not a "lone wolf" policy of any particular party," the spokesperson said.
"The department remains ready to implement the new authority which would realise significant savings at a time of unprecedented pressures on public services."
The spokesperson said the costs incurred to date represent the total cost of taking forward the recommendations of the Review of Public Administration (RPA) which applied to the Department of Education.
"The primary objective of these recommendations was the generation of savings through the introduction of a single education authority," he added.
"The costs cover a five year period leading up to the proposed establishment of ESA in January 2010.
"Whilst ESA has still to be established, work is currently under way, building on much of the preliminary work that has already been undertaken, to deliver savings through a programme of convergence across the education sector."