McClarty had 'No divine right' to be reselected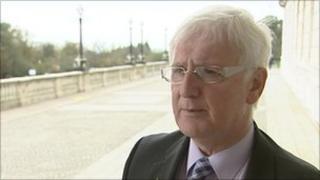 East Londonderry MLA David McClarty had "no divine right" to be reselected by the UUP according to Norman Hillis, the chair of the party's East Londonderry Constituency Association.
Mr McClarty recently announced his resignation after he failed to win UUP backing to stand in this year's Assembly elections.
He has been an MLA for 12 years.
He blamed a small number of party members for the decision and has branded the selection process unfair.
Mr Hillis told BBC Radio Foyle that "nobody had forced David McClarty out of the Ulster Unionist Party".
"It was a decision he made entirely on his own. We would be more than happy if he was still a member of the party," he said.
"Like all parties we do have a selection process and, to the best of my knowledge, the process was adopted unanimously by the party as a whole two or three years ago.
"David applied along with two other candidates, Coleraine councillor David Harding and Lesley McAuley from Portstewart."
'Stitched up'
"Nobody has a divine right to expect to be selected, everybody's equal going into this process and it's a bit like applying for a job as a teacher or even applying for a job at the BBC, you go into the process and you really have to accept the result of the process.
"There's a sort of an implication here that David was stitched up, which is quite untrue. Nobody has come across and told me that any part of the process was anything but fair."
Mr McClarty was one of the party's longest serving MLAs. He was elected to Coleraine Council in 1989 and the Assembly in 1998.
He will remain in Stormont until the elections in May and will retain his council seat as an independent.
Speaking on BBC Radio Ulster Mr McClarty said the decision to resign was "one of the saddest episodes in my life".
"It was not an easy decision and I still am very sad that it has come to this," he said.
"But in many ways those two or three individuals who have brought this about have forced me away from the party.
"The party has left me rather than me the party."
Mr McClarty's decision follows the stepping down in December 2010 of Harry Hamilton, who became the third candidate in three months to quit the party.
Paula Bradshaw and Trevor Ringland, who were also Westminster candidates, left the UUP earlier in the autumn.