Minister defends Macosquin 'super dump' approval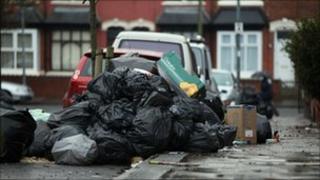 Environment Minister Edwin Poots has defended his decision to approve plans for a controversial 'super dump' in Macosquin in County Londonderry.
Almost 2,000 objections were received in relation to the scheme to locate the landfill site at 19 Cam Road.
Residents argued that the water quality for people living in the area will be affected.
However Mr Poots indicated he will approve plans without the need for a public inquiry.
Campaigners said they would seek a judicial review into the Environment Minister's decision to approve the plans without a public inquiry.
Objections were filed against the application from the NWRWMG to locate the landfill site for non-hazardous waste at the Cam Quarry.
NWRWMG is a body comprising seven local councils, including Londonderry and Limavady.
The super dump will be used to deal with waste from all seven council areas. The quarry owners, B. Mullan and Sons will develop and operate the facility.
The prospect of a new landfill site led residents to set up the Ringsend Concerned Residents Group to campaign against the super dump.
Nimbyism
Environment Minister Edwin Poots defended the move and said the landfill site was a NWRWMG decision.
"The whole NWRWMG engaged in a procurement procedure with the concerned parties," he said.
"This was to go ahead if planning conditions were met so the position I'm in is to give the green light to something that meets the criteria.
"If we had been at the point where my officials and the experts involved were in clear conflict with the issues that the applicants were putting forward, then we would've sent this to a public inquiry."
Some environmental groups have said they are concerned about toxic leakage into the local area.
Mr Poots said the appropriate steps would be taken to ensure public safety.
"That's why it is essential the quarry is properly lined and we have set things in place to prevent a risk of leakage," he said.
"I wouldn't describe the opposition as nimbyism but most people wouldn't want a landfill site beside them but everyone puts their waste into bins."
SDLP MLA John Dallat suggested there were other options that could be considered.
"I think the minister has failed to appreciate things have moved on, there was a mechanical biological treatment (MBT) plant that was discussed at the council as recently last night.
"The minister should have gone through the usual process instead surprising people with this decision over the Christmas period, not giving people the chance to respond properly."