Belfast driver told his legs would be 'blown off'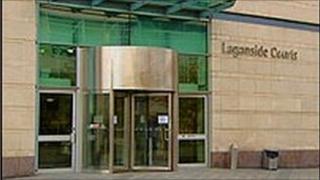 A motorist was threatened with having his legs blown off during an alleged hijacking in Belfast, the Magistrates Court has heard.
Joseph Kane, 24, of Herbert Street, faces 11 offences linked to the suspected seizure of a car on Sunday.
They include driving when unfit through drink or drugs, assaulting the driver and having no licence or insurance.
The charges relate to an incident at Brompton Park before a collision brought the vehicle to a halt.
He is also accused of hijacking, dangerous driving, failing to stop at or report an accident, criminal damage and possessing Diazepam drugs.
Mr Kane appeared in the dock on crutches.
A police constable, opposing bail, said the accused had to be sedated before an ambulance crew could give him medical treatment.
'Worried'
"We are concerned about witnesses. The defendant knows and has known the injured party for some time," he said.
"They live very close to one another. We are worried about any attempt to interfere with the injured party, especially as he threatened to blow the man's legs off."
A defence lawyer told the court Mr Kane had been drinking heavily following the birth of his child.
The solicitor said his client would be "totally ashamed" if the allegations against him were proven because he has known the alleged victim for so long.
"It is a sort of madness rather than any long-term feud," he said.
Mr Kane was remanded in custody due to the risk of re-offending.
District Judge Fiona Bagnall said: "I'm concerned about interfering with witnesses given the stage of the investigation."
Mr Kane will appear again in court via video-link next month.