Londonderry firm outfits Irish post office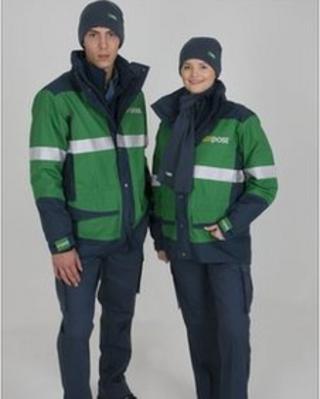 Postmen and women in the Republic of Ireland have a new look, thanks to a Londonderry company.
Workwear specialists Hunter Apparel Solutions, based in the Springtown area of the city, designed and manufactured the practical and up-to-date look of An Post's new uniform.
The 2m euro (£1.7m) project has given 6,000 An Post staff a uniform designed with the vagaries of the Irish climate in mind.
Employees will be able to choose from items such as rain-proof jackets, knee-length shorts and cargo pants depending on the weather.
The managing director for Hunter Apparel, Simon Hunter, said it had been "a very prestigious contract win" for the company.
"Our designs and garments have been extremely well received. This range of garments has provided An Post with a superb new look, much more fit for purpose and contemporary looking," he said.
Global supply
Originally established in Belfast in 1936, Hunter Apparel will be celebrating its 75th year in business this year.
"We are the longest established and most experienced uniform company on both sides of the border.
"Our business handles a wide range of market sectors from smaller niche projects for boutique hotels through to global supply for some of the world's best known brands including British Airways, Body Shop International, Kuwait Airways, to name a few," Mr Hunter said.
The company has also won a contract to provide uniforms for 47,000 staff at Health and Social Care Northern Ireland. Rolling out in 2011 it will be the first ever national uniform for the health service in NI.
Hunter Apparel also supplies every ambulance service paramedic and officer on both sides of the border, as well as the uniform for the Northern Ireland Fire and Rescue Service as well as most of the fire departments in the Republic.