Two in court over Belfast tuition fees protest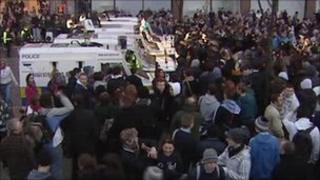 Two Belfast men have appeared in court charged with offences during student protests in the city in December.
Gerard Carroll, 23, of Crocus Street and Simon McConville, 18, of Woodland Avenue were arrested during protests against tuition fee rises.
Both are charged with doing a provocative act by sitting on a public highway and obstructing lawful activity in a public place.
Both men were remanded on bail to return to court in two weeks' time.
Several hundred people gathered to voice their anger at rises in tuition fees at English universities.
Police were called after some blocked the road in front of the City Hall.
A crowd of supporters gathered outside the court on Wednesday and the public gallery was packed when the two men appeared before the court.
A Public Prosecution Service representative told the court that a decision had yet to be taken on Mr Carroll's case.
The 23-year-old, who was said to be on benefits, was granted permission to enter Belfast city centre when seeking work.
A PSNI constable, who said he could connect him to the alleged offences, told the court police approved of the bail variation as long as the accused could provide proof of his intentions.
Mr McConville, who appeared without legal representation, was told by the magistrate to consult with a solicitor before his next court appearance.