Strabane's 'Fast Talker' George Cunningham dies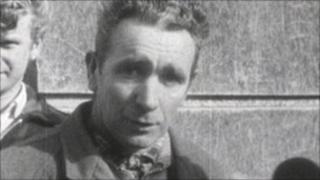 A Strabane man, who became famous for his "fast talking", has died at the age of 90.
George Cunningham's unlikely break came when he was interviewed in the 1970s by UTV's Charles Witherspoon about his home town's high unemployment rate.
His quickfire responses turned him into a local legend and his mile-a-minute delivery featured on TV outtake programmes around the world.
The clip also appeared several times on ITV's "It'll be Alright on the Night".
He died at his home in the Tyrone town on Tuesday.