Profile: Former NI Water chief Laurence MacKenzie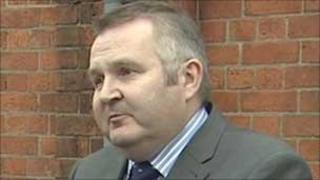 The chief executive of NI Water Laurence MacKenzie has resigned following severe criticism of the government-owned company's handling of the recent water crisis. BBC News profiles the man who has stepped down from the £250,000 role.
Laurence MacKenzie has not been far from the headlines since his appointment to the post of NI Water chief executive in 2009.
Shortly after taking up the role, he ordered an internal probe into a number of contracts which he believed had not been competitively tendered.
When it confirmed his fears, Mr MacKenzie was said to be so perturbed by events that he he tendered his resignation, only to later withdraw it.
A subsequent independent review said there was a "serious breakdown in the governance and control framework" of the company.
It also established a breakdown in relations between the board of NI Water and Mr MacKenzie.
Following the report, the Regional Development Minister Conor Murphy moved to sack four members of the NI Water board, including the chairman Chris Mellor.
Denied
It was not the end of the controversy for Mr MacKenzie.
The independent review team was thrust into the spotlight when the Assembly's Public Accounts Committee asked whether one of its members, Phoenix Gas chief executive Peter Dixon, was a personal friend of Mr MacKenzie, something Mr Dixon categorically denied.
The row was indicative of Mr MacKenzie's relatively short and difficult period as NI Water's boss.
He was under no illusions about the size of the task he had taken on, something he made clear when he appeared before an Assembly committee.
"I spent a lot of time in the private sector. When I saw when I came in was an organisation that believed it was in the private sector, was behaving as though it was in the private sector, without actually knowing how the private sector operated."
December marked a watershed for the Scottish-born accountant, who previously led part of Northern Ireland Electricity.
After mounting speculation over his future Mr McKenzie resigned after 40,000 homes were left without water over the Christmas period.
A thaw following unprecedented freezing weather caused thousands of burst pipes and left many reservoirs with low levels.
NI Water was fiercely criticised for its response to the crisis, with many people left angry at its failure to cope with their requests for help and information.
Mr MacKenzie was previously Managing Director Northern Ireland Electricity plc from 2000-2009.
He has predominantly worked in the utilities industry having previously been employed as the business performance manager at Scottish Hydro Electric plc.
He graduated with a first class honours degree in Business from the University of Abertay Dundee in 1990.