Northern Ireland Water chief Laurence MacKenzie quits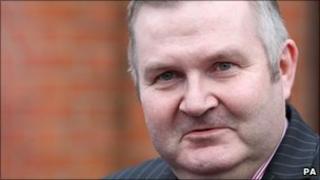 The chief executive of Northern Ireland Water has stepped down following Christmas shortages that left tens of thousands of homes without supplies.
Laurence MacKenzie's departure was announced after an eight-hour meeting of the NI Water board of directors.
The company was criticised for failing to prepare properly for disruption following December's heavy snowfall.
Half-a-million litres of water had to be sent from Scotland to Belfast as supplies began to run out.
There were complaints from the public about a lack of information from Northern Ireland Water as 40,000 homes and businesses were without supplies at one stage.
Phone lines were jammed and the company website lacked up-to-date information.
After more than 10 days of disruption, just 33 households in Northern Ireland are now without a full water supply.
Mr MacKenzie said in a statement: "This is entirely my own decision. I believe firmly in the principles of responsibility and accountability. It is for that fundamental reason I have decided to pursue this course of action.
"As I made clear early last week, my focus until now has been entirely on dealing with the major incident which affected too many of our customers in recent days. I am very glad to say that that situation has now been resolved."
He added: "I readily accept and recognise that there were aspects of the way in which we handled the situation that could have been better.
"In particular our ability to communicate with our customers and let them know the reasons for and the times at which they were going to be taken off supply.
"This failing added to the considerable inconvenience experienced by our customers - for that I apologise sincerely both personally and on behalf of the organisation."
Mr MacKenzie came under increasing pressure after members of the Stormont Executive criticised the company's handling of the crisis.
A spokeswoman for Northern Ireland Water said: "Following discussion, the board has accepted his (Mr MacKenzie's) resignation as CEO and agreed terms of settlement consistent with his contractual entitlement.
"Accordingly the board is making a recommendation to the Minister for Regional Development, Conor Murphy, that he approves the settlement terms proposed by the board."
Mr MacKenzie's resignation becomes effective from Friday and the search for a new chief executive will begin.
The board is recommending that NI Water engineering procurement director Trevor Haslett is appointed as acting chief executive.
Mr MacKenzie became chief executive of Northern Ireland Water in 2009, having previously headed Northern Ireland Electricity.