Orange Order 'won't meet' Sinn Fein, Parades Commission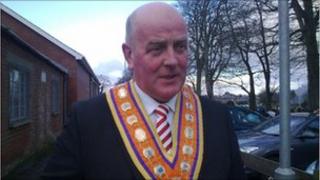 The new grand master of the Orange Order has said he will not engage in talks with Sinn Fein or the Parades Commission.
Edward Stevenson, a dairy farmer from Ardstraw near Strabane, was elected at a meeting in Ballykelly on Wednesday.
Sinn Fein MLA Alex Maskey said the party was willing to meet with Mr Stevenson and the rest of the Order.
But Mr Stevenson said Sinn Fein "carry a lot of baggage as far as the Orange Order is concerned".
"There are members who are still suffering and hurting deeply from the wounds that they received through the loss of their loved ones.
"As the situation is at the minute we will not be meeting with Sinn Fein."
He also said Order's policy on contentious parades would not change.
"They might have changed the Grand Master but they haven't changed grand lodge policy, and our current policy is that we will not be meeting with the Parades Commission as presently constituted."
Mr Maskey called on Mr Stevenson to "end the nonsensical ban on talking to residents, the Parades Commission and Sinn Fein".
"The election of a new grand master provides an opportunity for the Orange Order to finally step forward and make their contribution to the peace process," he said.