Derry peace bridge ready for May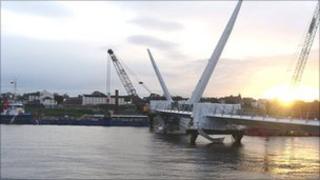 The £13m peace bridge across the River Foyle is expected to be finished by May, according to the company behind the project.
Ilex said the bad weather caused difficulties for construction staff working on the bridge over the Christmas period.
Programme manager Sean Currie said there had been a delay of approximately four weeks.
"The snow and ice caused problems accessing the bridge."
"Snow had to be cleared from the deck before they could begin work and in the bad weather it was too dangerous to allow anyone to go up in the basket to the masts."
A meeting is to be held on Monday to finalise the completion date.