Increase in Northern Ireland swine flu cases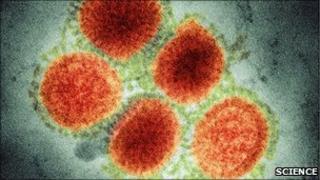 The number of people treated for swine flu in Northern Ireland increased from 136 to 185 in the last week of 2010.
Figures from the Public Health Agency (PHA) show total cases have increased again this week but the level of the rise is less than previous weeks.
The PHA has also said it is confident there will be no shortage of swine flu vaccines in Northern Ireland.
The Department of Health has admitted to "local supply" problems in some other parts of the UK.
Meanwhile, the number of people diagnosed in the Irish Republic has also risen significantly.
GPs there diagnosed 5,400 cases in the past week - double the number in the previous week.
The Republic's Chief Medical Officer Dr Tony Holohan said the number of human swine flu cases could exceed the peak seen during the pandemic in 2009.
Commenting on the latest NI figures, Dr Lorraine Doherty, assistant director of the PHA said: "We have seen a rise in the number of seasonal flu cases. However, flu cases are still not as high as seen during 2008/09 or during last winter's flu pandemic.
"Nevertheless, a number of people are ill in intensive care units with flu and it is thus important that every effort is made to prevent flu transmission in the community. "
Vaccines
Dr Richard Smithson, consultant in communicable disease control for the PHA, said that swine flu vaccines were ordered and delivered on a daily basis to GPs in Northern Ireland.
"In England, GPs run on a different ordering system, in which each GP practice individually orders vaccines in the summer, in one go. This can sometimes lead to some GPs running out of vaccines.
"In Northern Ireland one order is placed by the PHA to cover all needs and vaccines are then distributed as needed.
"This system has proven to be very robust in previous years when on occasion other parts of the UK have experienced supply difficulties and we have avoided them here."
'Sicker'
Earlier, the doctor in charge of acute hospital services in Belfast said there are fewer critical cases of swine flu winter, but those affected are more ill.
Dr Patricia Donnelly said although critical care units were busy, beds were still available in Belfast and across Northern Ireland.
She said in Belfast there were five patients with swine flu in critical care out of a total of 33.
Across NI the number was fluctuating between 25% and 35% of critical beds.
She said there was only one child with swine flu in critical care and another child with a different type of flu.
"A smaller number of patients are affected this time, but those who were affected definitely are sicker," Dr Donnelly said.
"Critical care is always busy throughout the year, but we have well tested plans to increase our capacity as and when it is required.
"At this point in time both in Belfast and across the region we are using those escalation plans and we have created additional capacity."
The PHA is urging all pregnant women to get the swine flu vaccine.