Ulster Bank facing £18m property losses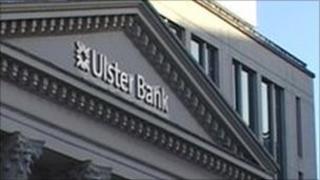 The collapse of three property development companies is set to cost Ulster Bank around £18m.
Pollock Developments of Ballymoney, Hawthorn Asset Management of Garvagh and NMC Developments of Belfast were placed in administration last year.
Recent administrators' reports show Pollock's failure will cost the bank £7.4m, Hawthorn's £7.6m and NMC Developments around £3m.
The taxman and smaller creditors also face significant losses.
Pollock Developments, which was based at Vow Road, had borrowed more than £9m which was secured on various development sites and properties in Ballymoney, Bushmills and Dervock.
The administrator estimates those assets are now worth less than £2m.
A further £230,000 owing to trade creditors and Revenue and Customs is unlikely to be repaid.
Hawthorn Asset Management, based at Glen Road in the County Derry village, owned properties in Maghera, including a petrol station.
Aston Martin
It also controlled 17 acres of development land at Stranorlar in County Donegal along with a partially sold housing development.
The firm had Ulster Bank loans of more than £11m but its assets are now worth around £3.5m.
The firm also owes £480,000 to unsecured creditors, including £225,000 which had been loaned to the company by its directors.
NMC Developments, which was based at Brookfield Mill in north Belfast, had bank borrowings of almost £5m but its property portfolio is now worth just £1.5m.
The firm was owned by west Belfast man Neil McCann.
In 2006 he spoke to the Bloomberg financial news agency about the complexities of trying to develop the Brookfield Mill which sits on a sectarian interface.
He told the agency's reporter that he deliberately parked his Aston Martin on the Crumlin Road to show people that that area of the city "doesn't have to be a ghost town."