NI Water memo said they were well prepared for crisis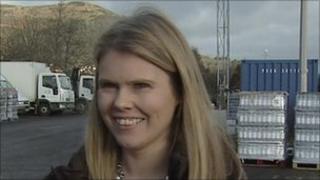 A memo written by an NI Water executive three days before the water crisis said the organisation was well placed to deal with any loss of supply.
The document which details how the organisation was planning for an emergency has been obtained by the BBC.
It was written by the head of customer services, Sarah Venning.
In it, she said NI Water had a well developed incident plan and had learned lessons from severe weather incidents in the past.
She said they had examined provision of incident teams, arrangements for backup water supply and call handling and customer communications.
About 40,000 homes and businesses in Northern Ireland were cut off from the mains water supply during the Christmas period and the government-owned NI Water was severely criticised for its response to those in need.
During the crisis thousands of people said they were unable to get through on the company's phoneline and experienced difficulties with its website.
The nine-point NI Water memo - written on 23 December - concluded that the company was well-placed to respond to burst pipes and any loss of supply.
Review
Meanwhile, the head of an independent review into Northern Ireland's water services has said the team's two reports were not acted on.
The review was set up by the assembly in 2007 after direct rule ministers advised that water services should be privatised.
Among its recommendations were that water charges should come in.
"We prepared the reports and they're still sitting on somebody's shelf somewhere," Professor Paddy Hillyard said.
Professor Hillyard said he "was very fearful it will happen again" because the water system "just cannot cope with heavy frost".
On Thursday, it was announced that there will be two investigations into the crisis.
The Executive has agreed to appoint two people to scrutinise the role of the Department of Regional Development, while the utility regulator will investigate NI Water's performance.
Professor Hillyard said as the regulator has a role in approving or disapproving investment in the water infrastructure, the investigation was not independent.
"To ask the regulator to carry out a review when he is in fact part of the government's arrangements will mean that it won't be totally independent
"What the people of Northern Ireland need is a totally independent review," he said.
"What worries me is that with the (assembly) elections coming up these reports are going to yet again be sitting on somebody's shelf gathering dust and nothing will de done until after the election.
"We have so little time to prepare for another possible crisis like this winter and we have to move very fast to ensure it doesn't happen again."
However, Shane Lynch, utility regulator chief executive, defended his role in the investigations.
"This would be standard practice and, in fact, it's the legal duty of regulators to regulate not just the cost of utilities, but also their performance," he said.
"In Northern Ireland we've had previous experiences in other utilities, particularly electricity, where after crisis events of this nature the utility regulator has indeed done follow-up investigations."
He added: "We intend to get to the heart of what went wrong during the recent crisis, and will examine how NI Water planned and reacted to these events."
The regulator also set out the terms of reference for the investigation.
Assurances
Earlier, Northern Ireland's regional development minister said he had been assured that measures are in place to ensure there is no repeat of the water crisis.
Conor Murphy said NI Water had told the Executive and his department about "the immediate lessons they have put in place".
"We also received a report from the Civil Contingencies Group - who span across all departments in terms of a response to an emergency situation - to tell us what suggestions they had put in place to allow other agencies and government departments to assist NI Water should any issue like this arise again.
"So there were very firm reassurances given to the Executive and the regional development committee that there have been a lot of immediate lessons learned and measures put in place to ensure we don't have a reoccurrence of this this winter," Mr Murphy said.
On Thursday, the Executive agreed to a twin track review of the crisis after hours of talks.
Mr Murphy said the investigation had been widened "to ensure that there was some confidence that there is a proper investigation into all of this".