Down and Connor Diocese suspends sign of peace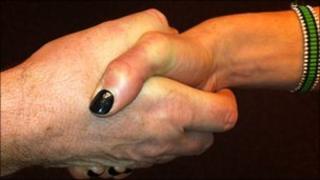 The traditional shaking of hands during the sign of peace at Masses in Down and Connor Diocese has again been suspended due to the rise in swine flu figures.
It was first suspended in October 2009 in a bid to reduce the risk of spreading the virus.
The diocese restored the sign of peace in March last year after fears of swine flu receded.
The latest suspension, based on Public Health Authority advice, comes after another outbreak of the virus.
Priests, however, will continue to visit sick parishioners at home and in hospital.
Alcohol-based hand-gel has been widely used by Down and Connor priests and lay assistants since the first outbreak of the virus in Ireland.
Father Eddie Magee, from Down and Connor Diocese, said the suspension of the sign of peace was "a sensible precaution to help prevent the spread of swine flu".
He said priests visiting hospital patients followed advice and guidance from the health agencies.
"When they move between patients, they would wash their hands and use hand gels and so on," he said.
He said the diocese also sent out advice to priests on how to avoid cross-contamination.
"For instance, if priests are going out on First Friday visits, they are encouraged to bring a container of alcohol hand-gel to prevent the spread of infection.
"Also, at this particular time of year, people are beginning to return to work, children are returning to school, so there is a period where there is a raised concern about what is going to happen over the foreseeable future."
Fr Magee said the sign of peace would be suspended until further notice.
"I'm quite sure many of the other dioceses are reviewing the situation as well," he said.
-