New mothers urged to get swine flu vaccine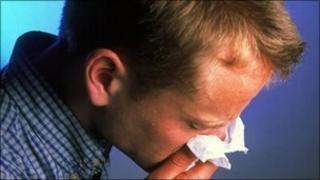 Mothers who have just given birth should receive the swine flu vaccine, the Royal College of Midwives (RCM) has warned.
It said new mums are at risk of catching the virus because their immune systems are low.
Mary Cadell from the RCM said women need to be reminded that they are still eligible to receive the vaccination after having their babies.
Fourteen people have died from swine flu in Northern Ireland since November.
The Public Health Agency said it had information on ten of those deaths and all of the patients had underlying health conditions.
So far just 40% of expectant mums in Northern Ireland have received the swine flu vaccine and the BBC understands there are currently several cases of pregnant women being treated in local intensive care units.
Ms Cadell said it is still "very important" for women to receive the vaccine after delivery.
She added: "We would prefer if they have the vaccine while pregnant but if they are delivered that doesn't mean that they cannot have the vaccine. They can have it, that service is available.
"They should take information from their midwife or GP."
'Unpleasant infection'
The PHA has made a new pledge to update the public weekly on the number of people to have died from the virus.
Dr Carolyn Harper stressed that most people who are infected make a full recovery.
"This is consistent with the pattern we have seen through the pandemic last year," she said.
"This is an infection which particularly affects people with an underlying condition and there's been no change to that pattern."
Details of the latest person to have died are not being released.
Prior to this death, the PHA said that the youngest person to have died from swine flu was a child and the oldest was 67.
Dr Harper said PHA figures indicated that the 15-44 age group had the highest rate of infection but she believed the overall rate was now close to peaking.
She added that, for the majority of people, swine flu was a "mild, self-limiting, often unpleasant infection but nonetheless the vast majority recover".
Dr Harper encouraged anyone suffering from symptoms to limit the spread of infection by staying at home.
However she advised anyone not feeling better after two to three days to contact their doctor.
The PHA is expected to release details of swine flu deaths every Thursday after previously insisting it was only obliged to publicise the information when the virus reached pandemic status.
Grown up
BBC NI health correspondent Marie-Louise Connolly said the apparent u-turn seemed to be in response to public pressure, with callers flooding the airwaves last week to complain about the lack of information.
56% of people under 65 who are entitled to the vaccine because of existing conditions have taken up the offer.
Our correspondent said that despite calls from some politicians last week, health officials have taken advice from their counterparts in the UK and Europe and decided at this stage not to vaccinate healthy people.
During the pandemic last year, 19 people died from the H1N1 virus, all but one of whom had an underlying condition.
The authorities were unable to establish whether the other victim, a pregnant woman, had an unknown underlying health problem which may have contributed to her death.