Gas poisoning suspected in County Cork hotel death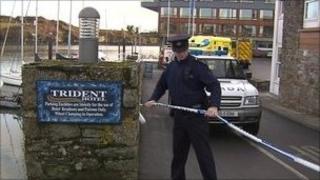 A woman has died and her sister is in a critical condition after a suspected gas leak at a hotel in County Cork.
Three investigations are underway at the Trident Hotel in Kinsale following the death of the woman who is said to be in her 30s and from County Limerick.
As well as her sister, up to 11 other people are receiving hospital treatment.
A police investigation is expected to focus on leaking gas pipes being the most likely cause.
The dead woman, her sister and most of the people who fell ill were attending a hen party at the hotel.
Inspectors from the Health and Safety Authority are also at the hotel, while the venue's management is conducting its own investigation.
Five people have died from carbon monoxide poisoning in Northern Ireland in the past year.
In August, teenagers Aaron Davidson and Neill McFerron died while staying at an apartment in Castlerock.
In November, Killian Scallon and his wife Pauline, both in their 50s, died after breathing in gas in their home in Irvinestown in County Fermanagh.
Just days later in the same town, another man, originally from Malaysia, died after being poisoned while working in a restaurant.
Carbon monoxide is an odourless, invisible gas which is extremely toxic. In the UK each year, about 50 people die from accidental poisoning.