Daughter of GAA manager Mickey Harte dies on honeymoon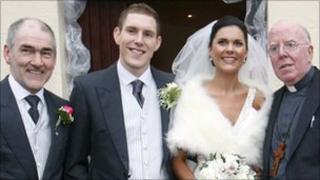 The daughter of Tyrone GAA manager Mickey Harte has been found dead on her honeymoon in Mauritius.
Michaela Harte, 27, married John McAreavey, a Down GAA footballer on 30 December.
It is believed she was found dead in her hotel room at the Legends resort by her husband.
A joint statement by Mr Harte and Catholic Bishop of Dromore John McAreavey said they had been notified of her death.
"We wish to confirm that we have received confirmation this afternoon that Michaela was killed today in Mauritius where the couple were on honeymoon.
"We ask for prayers for Michaela, John and their families and loved ones," the statement continued.
"Both families are deeply shocked and devastated by this tragic news and they ask for privacy and space at this time of profound grief."
Bishop McAreavey, an uncle of the groom, married the couple at St Malachy's Church at Ballymacilroy, not far from the bride's parents' home at Glencull Road.
It is not clear how the former Rose of Tralee finalist died.
There are unconfirmed reports that she'd complained of feeling unwell on Monday afternoon. She was later found dead in their luxury hotel room by her husband.
The police on Mauritius have begun an investigation. A post mortem examination will be carried out on the body at 9am local time (0500 GMT) on Tuesday.
The Tyrone GAA County Board issued a statement on their website expressing their condolences.
"The board is shocked and greatly saddened to learn of the sudden death of Michaela, only daughter of our senior football team manager Mickey Harte, while on honeymoon in Mauritius.
"Michaela and indeed the wider Harte family of Marian, Mark, Michael and Matthew have been very closely associated with the present senior football team since Mickey took over as Tyrone minor manager in 1991.
"It is difficult for us to comprehend the devastation that her new husband John and the Harte family must be feeling at this time.
"This tragedy will be sorely felt throughout the Tyrone GAA family and on behalf of our players, officials and members in Tyrone, and around the world we wish to express our deepest sympathy to John, Mickey, Marian, Mark, Michael and Matthew".
Father Brian Hackett, the family priest, said: "Her big thing was her daddy being the manager of Tyrone. She went everywhere with him. She was a religious girl. She was a dedicated Tyrone supporter."
'Little jewel'
Ms Harte taught Irish at St Patrick's Girls Academy in Dungannon, County Tyrone and was a former Rose of Tralee contestant.
Friends of the family said the Tyrone manager and his wife Marian worshipped their daughter.
Journalist Adrian Logan, a former sports presenter in Northern Ireland said her father "adored her".
"He was totally devoted. He just thought the world of her. He told me: 'She's my little jewel'," he said.
Michaela was at her father's side on the three occasions his team won the all-Ireland championship at Croke Park, Dublin, in 2003, 2005 and 2008.
Mr Logan added: "He refused to do any post-match interviews after those games until she stood beside him. That's how much she meant to him. She was his number one fan."
Fermanagh, South Tyrone MP, Michelle Gildernew has expressed her condolences to the Harte family.
"Michaela was a beautiful and talented young woman who will be sadly missed," she said.
"The fact that just a week ago she was experiencing the love and happiness of her wedding to County Down Footballer John McAreavey in the company of family and friends makes it even more difficult to take in that she has passed away."
SDLP Leader Margaret Ritchie MP also offered her sympathy to family.
"To lose a child in any circumstances is upsetting but for her life to be cut short while on honeymoon and at such a young age is so very sad," she said.