Catholic principals frustrated over grammar tests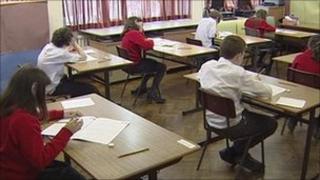 A group of Catholic school principals have said they are frustrated grammar schools are still using unregulated tests for academic selection.
Baroness Nuala O'Loan has written to Cardinal Sean Brady on behalf of 37 primary and secondary school principals in the Dungannon and Cookstown areas.
A spokesman for the group said the two local grammars had agreed to phase out academic selection in the future.
However, he said not everyone was moving at the same pace.
This was causing stress and frustration in the primary schools which would like to see the end of the breakaway tests, he said.
The principals said there was much confusion over the breakaway tests used by the Catholic grammar schools and some parents felt let down by the system.