Ford calls for extra cash to tackle dissident threat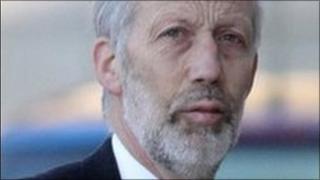 The justice minister has warned of 'extremely serious consequences' if the police are not given access to £200m of emergency funding to combat the dissident republican threat.
David Ford told the Assembly he is supporting the Chief Constable's request for the additional money.
He said he expects an answer from the government in the near future.
Some of the money would be used to employ extra officers to guard PSNI stations and for personal protection.
The BBC revealed last year that the Chief Constable, Matt Baggott, had asked the government for access to around £200m of funding from the Treasury during the next four years to combat the threat from dissident republicans.
The issue has been discussed at Downing Street and in a series of meetings involving the police, the Treasury and the Department of Justice.
During question time at the Assembly on Tuesday, SDLP policing board member Dominic Bradley asked the justice minister to outline the consequences if the additional funding is not made available.
Mr Ford said he has been lobbying for the extra money.
"There would be extremely serious consequences if we did not get what is seen as the minimum funding necessary to deal with the particular circumstances, in which the police service are currently operating," he said.
"That is why I have been pressing hard and that is why I have been having regular contact with the secretary of state and he has assured me that he has been having discussions with the Treasury and the Cabinet office, to ensure that the point is made at the highest level in London."