Carrick GS pupil Ben Robinson dies after rugby match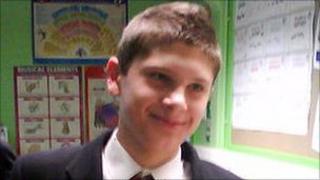 A Carrickfergus Grammar School pupil has died in hospital after collapsing during a school rugby game on Saturday.
Ben Robinson, 14, was being treated in the intensive care unit of Royal Victoria Hospital.
School principal Kieran Mulvenna said the year-11 pupil would be "sorely missed" by staff and fellow pupils.
He added: "I had the pleasure of teaching Ben for a number of years and he was bright, bubbly and enthusiastic - a pleasure to have in the class."
Ben was playing for his school against Dalriada School in the Medallion Shield. He collapsed after making a tackle in the last minute of the game.
Mr Mulvenna said that a consultant doctor who was pitchside treated Ben, before an ambulance arrived within 15 minutes.
He added that it was too early to speculate on the exact cause of what happened to the 14-year-old.
Report
The match referee, a member of the Ulster Society of Rugby Football Referees, will file a report on the incident which will be examined along with evidence taken by medical professionals.
Mr Mulvenna said Ben's death was a "nightmare" for his family.
"As any parent will know, the loss of a child is their worst nightmare come true," he said.
Ben has an older sister Holly, who is also a pupil at the school and Mr Mulvenna said that he was taking measures to ensure support was in place for her and other pupils.
In a statement, the Ulster Rugby branch also passed on its condolences to Ben's family.
Chairman of the Culture, Arts and Leisure Committee at Stormont, Barry McElduff, said he was saddened by news of Ben's death.
"No major footballing code has been spared this type of tragedy and I am quite sure that there will be strong support for the Robinson family in the time ahead from the sporting and wider community," Mr McElduff added.