Department approves changes to Downe A&E unit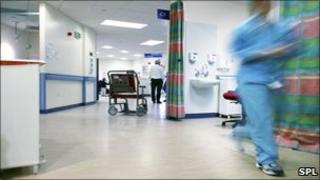 It has emerged that controversial changes to A&E cover and mental health care in the South Eastern Trust are likely to go ahead.
The health minister has approved the trust's decision to ask GPs to cover out-of-hours A&E at the Downe Hospital.
The trust has said the move is necessary because it has been unable to recruit enough middle-grade doctors.
Campaigners against the decision have said their research shows the trust has not done enough to find medics.
Legal action
From April, GPs will staff shifts between 2200 GMT and 0800 GMT, seven days a week.
Acute care for mental health patients will also change within 18 months.
Inpatient services will be moved from the Downe and the Ulster Hospital in Dundonald to the Lagan Valley Hospital in Lisburn.
Local protesters spent months campaigning to keep a consultant-led A&E unit at the £64m Downe Hospital, which opened more than a year ago.
But the trust failed to recruit suitable doctors and said it now needs GPs to cover.
Campaigners claim lives will be put at risk as patients in some parts of County Down will have further to travel for treatment.
They are pursuing legal action and will try to lodge a judicial review in a bid to have the decision reversed.
'Pathetic effort'
Down District Council chairman Eamonn O'Neill said the trust's effort to find doctors had been "pathetic".
"We are absolutely appalled that all the evidence we have produced against this set of proposals has been so arbitrarily jettisoned.
"When we researched the matter through freedom of information, we discovered that they had only once asked for a set of advertisements to look for doctors."
Hugh McCaughey, chief executive of the South Eastern Trust, said it had made three attempts to find doctors.
"There is a national and local shortage of middle-grade doctors," he said.
"We have evidence of some other hospitals around the UK even having to close and many struggling to recruit these doctors.
"We are in a position if we don't find a better way and a more stable way to staff the departments, we'll end up with unplanned closures.
"This model, which we have agreed with senior clinicians, consultants and GPs, will give us a stable model for the future."