Average Northern Ireland gas bill could top £500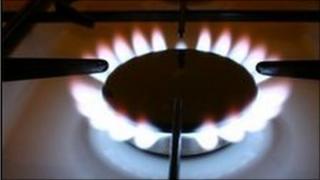 The average annual gas bill in NI could be set to rise to over £500.
Although there has been no official confirmation, Phoenix Supply is expected to respond to rising wholesale gas prices by asking the Utility Regulator to sanction higher customer tariffs.
There is speculation the increase could be between 10% and 20%.
A 10% price increase would see the annual average bill rising to £480, 20% would result in a bill of £523.
Until now, Northern Ireland consumers have enjoyed a period of relatively low prices.
Despite it costing more to transport gas here, consumer bills have averaged 11% less over the past three years than domestic tariffs in Britain.
Modest
For all the competition amongst the six big gas supplies in Great Britain, the average margin gas companies make there per customer has been running at £70 a year, whereas in Northern Ireland the figure is just £9.
The Utility Regulator currently allows Phoenix a margin of 1.5% which looks modest compared with the average 10% margin enjoyed by gas companies elsewhere in the UK.
The company is expected to submit an application for a price increase in the next few weeks.
The Utility Regulator's decision is expected in March with any actual price change likely to be implemented in April.