Areas of Northern Ireland hit by flooding and snow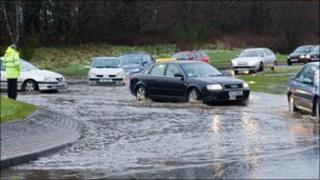 Heavy rain and strong winds have led to flooding in parts of Northern Ireland.
Driving conditions in affected areas are said to be difficult.
The Department of the Environment have told the police they are closing the main Londonderry to Belfast, Glenshane Road, at Drumahoe because of flooding. Diversions will be put in place.
Police have said the Limavady mountain road which had been closed because of the conditions, and the A2 in Derry have now reopened and are passable.
SDLP MLA Mary Bradley got stuck in flooding at Drumahoe.
"We now have the police and the Roads Service trying to push the cars through the flooding," she said.
"Traffic is at a total standstill coming in and out of Derry this morning.
"The police are doing their best, they are out there in their uniforms, no wellies or anything, trying to move the cars."
There are also reports of flooding between Derry and Strabane, the Ardlough Road, Greysteel, Claudy and in Dungiven.
Snow
In the east, major routes affected by flooding include the A55 Knock Road, the Annadale Embankment, the Sydenham Bypass in Belfast and the A20 between Newtownards and Portaferry. Drivers are advised to exercise caution.
The Roads Service has said snow is falling on higher ground, including the Glenshane Pass and the Barnault Road near Claudy. Salting of the routes affected is under way.
The Met Office is warning of further spells of rain during the Monday morning rush hour, and there is still a risk of further localised flooding.
BBC weather forecaster Angie Phillips said low pressure had caused the rain to turn to sleet and snow.
"The Met office had a warning out for heavy spells of rain, but we have had an area of low pressure moving across the northwest overnight," she said.
"The northwest has been on the northern side of that pressure and that has brought the temperatures down and as a result the rain has turned to sleet and snow.
"So not only do you have the problem of localised flooding, it's slippy with the sleet and snow too.
"Conditions should improve by the afternoon, but there will be a widespread frost tonight."