Who is Hazel Stewart?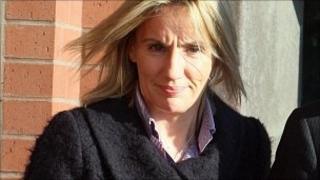 She has never been alone.
Hazel Stewart, 47, faced charges of murdering her former husband - father of her children - and her ex-lover's wife, but she always has had family behind her.
In court appearances, where she has wept in the dock or sat frozen faced, her second husband, retired police superintendent David Stewart has been there.
Her son and daughter - children of the man she murdered - were in the gallery.
Going to court and coming from court, they are there. They hold umbrellas protectively over their mother - they stay close as they can to her side.
Despite the seriousness of the charges she faced, she was granted bail amid fears that she might take her own life, given the chance.
Her second husband took the witness box to say that he and her children would care for her.
In December, when Hazel Stewart's trial could not proceed because her former lover, dentist Trevor Howell, a 51-year-old dentist from Glebe Road in Castlerock, sent over 40 pages of testimony from his prison cell about the two murders, her sister was close to comfort her.
The story of Hazel Stewart, from Ballystrone Road, Coleraine, reads like a crime thriller - it doesn't seem real.
But it didn't start that way. She was a farmer's daughter. Eighteen-year-old Hazel Elkin married RUC officer Trevor Buchanan who was 22, at Omagh Baptist Church on 11 July 1981.
'Absolutely gutted'
Two children quickly followed and they moved to Coleraine in 1986 and settled in Charnwood Park.
The Buchanans went to the local Baptist church - so far, so normal.
But it was at a church playgroup that Hazel Stewart's world would spin on its axis after meeting dentist Colin Howell.
It was during swimming lessons organised by the church that they became attracted to one another.
That attraction became an obsession. Hazel became pregnant then, unsure if the child was that of her husband or her lover, had an abortion.
The couple would meet in secret at Castleroe Forest but they were soon spotted by a member of the church.
Both confessed to their pastor and their spouses. Colin Howell's wife Lesley, who had just had her fourth child, took an overdose.
Hazel's husband Trevor said he was "absolutely gutted" but both wanted their marriages to work.
And for four months, the couples received counselling and stuck to strict guidelines laid out by the church.
But the affair resumed.
And on the morning of 19 May, 1991, the bodies of Trevor Buchanan and Lesley Howell were found in a fume-filled car at the back of a row of cottages in Castlerock.
The grim scene was discovered by two members of their church. Trevor, was found in the front of the car while Lesley was in the boot, family photographs scattered around her body.
At the time, police thought it was a tragic double suicide. An inquest found the pair had died as a result of carbon monoxide poisoning.
But not everyone was convinced it was suicide. David Green, a church member who was also a policeman, was one of those who found the bodies.
Twenty years later he told the trial: "I had great suspicions after discovering the bodies. I was very unhappy... I believed something had happened that was not good."
Then, in 2009, the crime that had remained a secret for 20 years was revealed when Howell confessed to the murders.
It is only now that Hazel Stewart's trial is over that we really know the part she played in the meticulous planning of the killings.
During the course of the trial we learned how the lovers met a number of times to discuss the plan.
Howell gassed his wife as she slept on the sofa at their home in Knocklayde Park. He put her body in their car and drove to his lover's home.
She opened the garage door and made sure her husband was sleeping in the bedroom. She organised clothes to dress the body then watched as Howell carried her husband to the car, placing him beside Lesley.
Vulnerable
She took the pipe used to gas their spouses and burned it, cleaned up the bedroom and opened the windows.
Finally, she waited for a phone call from her lover to find out what she should say to the police.
During her trial Stewart denied she had given her husband a tuna sandwich laced with drugs and denied being part of a plot.
She claimed she was "soft, weak vulnerable, and easy prey" painting her former lover as "obsessed, calculating, controlling and very manipulative."
She said the reason she didn't help her husband was because she was terrified Howell would kill her and her children.
However, she resumed her relationship with Colin Howell weeks after the killings at first in secret, having sex in his dental practice in Ballymoney - with Hazel taking gas and air.
The court also heard Howell had once given her drugs at her home. This, the jury heard, was to help ease the couple's guilt...
But after five years the couple who killed to be together, parted. Howell met and married an American divorcee, and they went on to have five children together.
After a seven-year relationship with another man, in 2005 Hazel married her second husband David Stewart, a former police chief superintendent
But before they could celebrate their fourth wedding anniversary, Hazel was arrested - charged with the murder of her first husband and her former lover's wife.