Survey suggests interest in NI housing market rising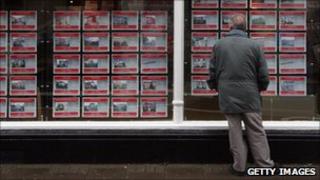 Interest in Northern Ireland's housing market is going up according to the latest survey by the Royal Institution of Chartered Surveyors (RICS).
A report by RICS and Ulster Bank shows that inquiries and offers on houses have picked up since the new year.
"The RICS survey suggests there is some positivity and a lot more interest and inquiry from buyers," said RICS housing spokesman Tom McClelland.
Indicators suggest the market has improved on late November/December.
Mr McClelland said there was a lot more activity but it was very much a two-tier housing market.
"The Greater Belfast area and Lisburn are seeing activity and sales.
"Outside of that, there is uncertainty at just how much more price adjustment has to be made," he said.
Better month
Most indicators in the latest RICS and Ulster Bank Northern Ireland Housing Market Survey improved in January.
The price balance - the percentage of chartered surveyors who say prices rose in the past three months minus those who say they fell - improved to -28 in January from -49 in December.
The balance for transaction expectations in the three months ahead improved markedly to +82, whilst the balance for price expectations improved to -9 in January from -31 in December.
However, the balance for transactions volumes during the past three months fell to -40.
Mr McClelland said the severe weather made December a particularly challenging month.
"Clearly January was a better month for the housing market, and there is the expectation that things will improve - albeit from low levels in terms of transaction activity - as we move into the spring, which is generally a busier time of year," he said.
The impact of spending cuts and the likelihood that interest rates will rise will affect the NI housing market significantly.
Derek Wilson, head of lending products at Ulster Bank, said: "Our own experience regarding mortgage enquiries in the past month tallies with the expectation that activity in the housing market will increase. In particular, we have experienced a marked increase in queries and completions from home movers."