NI prisoner Donaldson loses Easter lily court case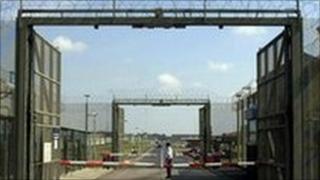 A republican prisoner has lost his European Court challenge over the right to wear an Easter lily in memory of the 1916 Irish Rising.
Christopher Donaldson, a prisoner in the republican wing at Maghaberry jail, County Antrim, took the case to Strasbourg's Court of Human Rights.
He acted after he was punished for wearing an Easter lily in 2008.
The prison authorities rule prisoners are not allowed to wear such emblems outside cells.
Exceptions are made for St Patrick's Day shamrocks and Remembrance Day poppies which are deemed to be "non-political and non-sectarian" if worn at the appropriate time.
On Easter Sunday, 23 March 2008, Mr Donaldson wore an Easter lily, refused to remove it and was confined to his cell for three days as punishment.
He challenged the policy in the NI court system, but the High Court ruled that the policy was proportionate to maintaining good order in prison and was not discriminatory. Donaldson's subsequent judicial review was dismissed.
In the European Court, seven judges ruled the prison's rule had a legitimate aim, namely the prevention of disorder and crime.
The judges noted that many emblems in Northern Ireland - such as the Easter lily - were inextricably linked to the conflict there and, consequently, their public display could be divisive and make existing tensions worse.
The judges said that the fact that the wing in the Donaldson case was segregated, did not change their ruling.
Prison officers also had the right to a non-threatening work environment, they ruled.
The judges said Donaldson had been allowed to wear the lily inside his cell and the Court found that the United Kingdom's justification for banning inmates from wearing Easter lilies had been "relevant and sufficient".