Time called for Scores on Doors food hygiene scheme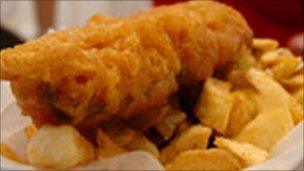 Time has been called on a Belfast food safety scheme - Scores on the Doors.
The familiar star ratings on restaurants, cafes and pubs will no longer be displayed on windows and doors.
The stars - from five down to none - were a guide to food safety compliance and hygiene.
In the past, there were red faces when a few high class eateries ended up with two stars and school canteen ladies celebrated five-star ratings.
Belfast City Council has said from April 2011, the way hygiene standards of food businesses are displayed to consumers was changing.
The Scores on the Doors was a pilot scheme and the new scheme, developed by the Food Standards Agency (FSA) in partnership with local authorities across England, Wales and Northern Ireland, would build on its success.
"Star ratings certificates and stickers will no longer be allocated to businesses after 1 January 2011," the City Council website states.
"The information will still be available on our website. In April 2011, the new ratings will be displayed on the Food Standards Agency website."
An FSA spokesperson said: "Consumers told us in research that 'Scores on the Doors' is too flippant for something as important as food hygiene and that the name of the scheme should instead tell them exactly what it is about - 'Food Hygiene Rating Scheme' does just that."
She said a new national scheme would replace a series of local schemes to ensure consistency and clarity for consumers.
"Consumers also told us that using stars could be confusing as so many other schemes use these and it would be misleading to 'award' stars to businesses where, for example, urgent improvements are needed as could be the case. Using numbers with some words is simple and easy to understand," she said.
A six-tier national scheme is being established in England, Wales and Northern Ireland, to be known as the Food Hygiene Ratings Scheme.
The new scheme will be launched in summer 2011.